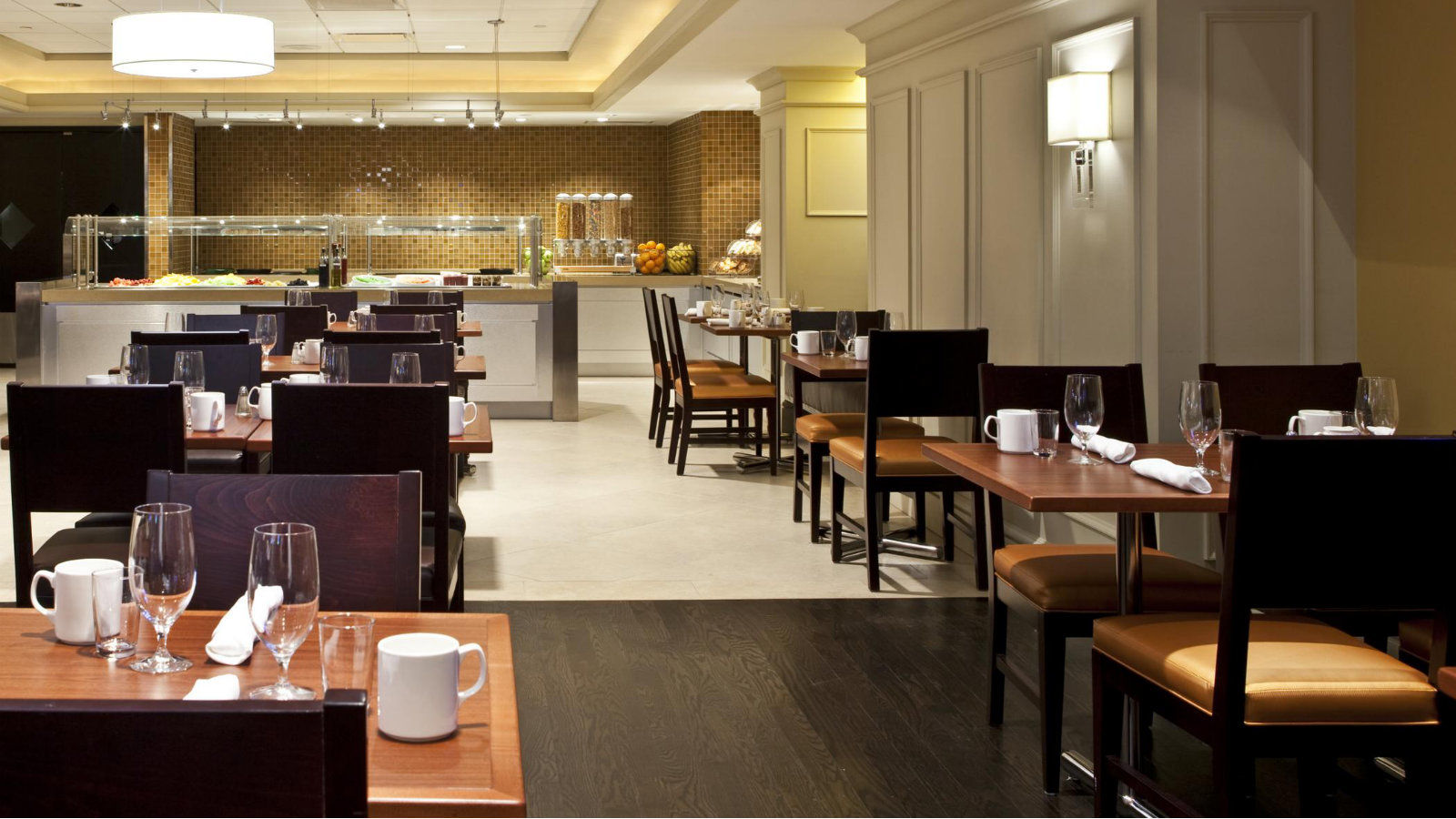 At the Sheraton New York Times Square hotel, meal planning is as convenient as it is enjoyable when you choose to dine with us for breakfast, lunch or dinner.
Start your morning off right at our on-site restaurant with a freshly prepared, American-style buffet or a la carte favorites. Our breakfast menu offers a variety of tasty options for you to choose from, such as sliced meats and cheeses, seasonal fruits, Greek yogurt, bagels, pastries, smoothies, eggs, bacon, sausage and potato scrambles, and more.
Then, after noon, select from our mouthwatering lunch menu, featuring soups, salads, sandwiches and desserts. Enjoy lunch during the weekdays from 12 p.m. until 2:30 p.m., or join us for brunch on Saturday or Sunday from 11:30 a.m. until 1:30 p.m.
For guests seeking a grab-and-go meal option, head to The Link@Sheraton Café any time between 6 a.m. and 3 p.m. for easily transportable snacks, as well as freshly brewed Starbucks® coffee.
Find Fresh New Flavors at Hudson Market Bistro

Seeking a great local place for dinner or an evening beverage? Travel just steps from your comfortable guest room or suite and enjoy just that!
From 5 to 11 p.m. each day, our on-site restaurant becomes the delicious Hudson Market Bistro, offering premium marketplace-inspired fare in a sophisticated, yet casual atmosphere.
Enjoy a variety of signature dishes, including:
Shareable appetizers and side plates
Gourmet burgers and sandwiches
Sustainably farmed salmon
Black Angus sirloin
Brick-oven pizzas
You can also sample premium wines from our Sheraton Select Social Hour program or enhance your experience with one of our seasonal craft beers. Share new memories with friends and family over a delightful meal at Hudson Market Bistro.