Things to do in Times Square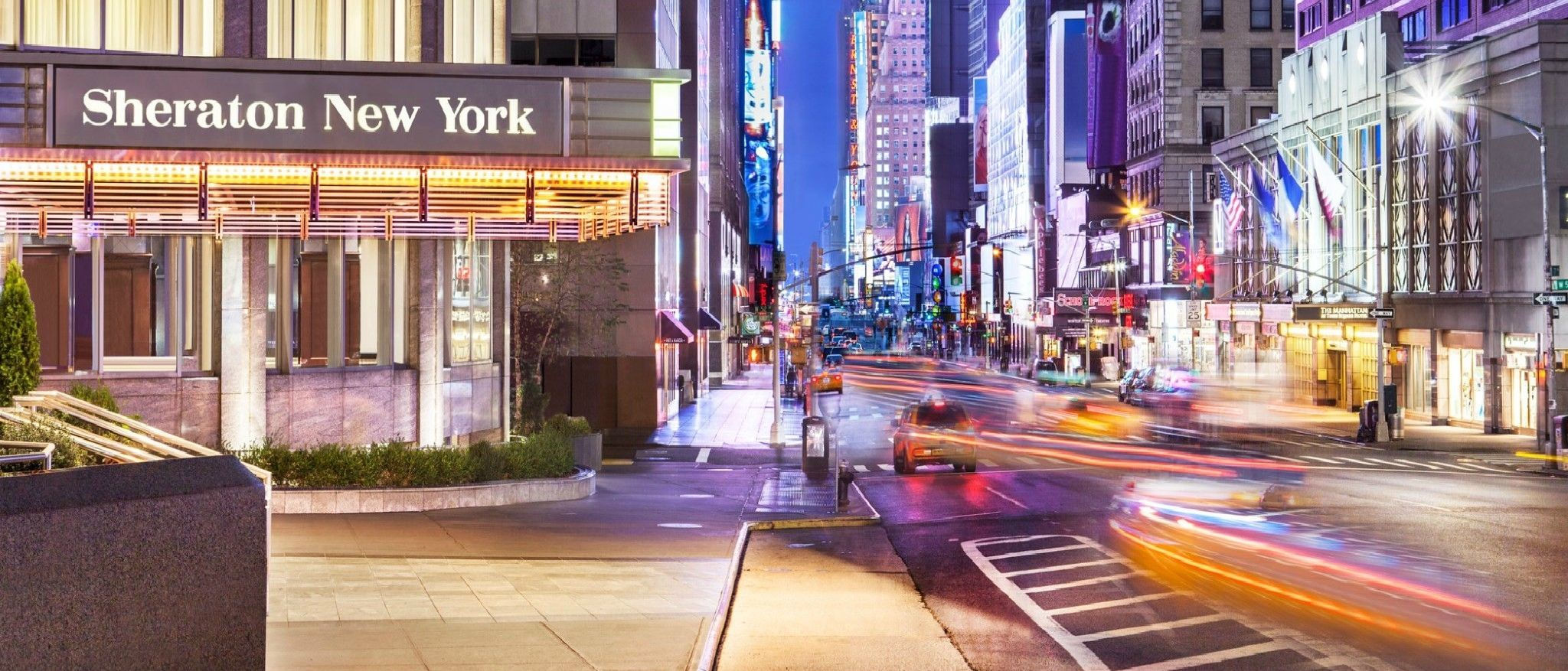 If you're considering several Times Square hotels for your visit to NYC, it's time to put our property at the top of your list.
An Excellent Location: Step outside and walk just five short blocks down 7th Avenue towards Broadway – you'll be at Times Square in five minutes!
Sophisticated Amenities at Great Rates: We offer spacious rooms with 37" flat screen HDTVs, plush Sheraton Signature Bed, Club Lounge access, inspiring cityscape views.
Friendly, Knowledgeable Staff: Our concierge team knows the best-kept secrets of the Big Apple. We're more than happy to share a few now, but there's still going to be plenty left when you check in.
5 Things You Need to Do in Times Square
People come from all around the world to see this famous intersection. Whether it's New Year's Eve or any other day of the year, Times Square is always alive with a mesmerizing hum of voices and nearby street traffic. Vendors sell everything from hot dogs and knick-knacks to t-shirts and jewelry, and massive video billboards compete with brightly colored print advertisements. You'll truly feel like you're in "The Crossroads of the World"!
Here are some top tips from our staff on things to do in Times Square:
1) New Year's Eve Ball: Take a look at the iconic Waterford Crystal ball that is at the heart of Times Square's annual New Year's celebration. Did you know? The ball is a geodesic sphere, 12 feet in diameter and weighs 11,875 pounds.
2) Catch a glimpse of a street performer. One of the most interesting things about Times Square is its many amateur street entertainers. Plan to visit on a sunny day – many costumed performers tend to stay indoors when it's drizzling or raining.
3) Eat lunch or dinner at Carmine'sor John's Pizzeria. These restaurants make us wish we were Italian! The first offers family-style dishes served in filling portions, while the pizzeria serves up fresh, authentic New York-style pizza.
4) Compare prices when shopping for souvenirs. If you're looking for a knick-knack to bring home, we suggest comparing prices among the vendors in this area. Most places carry similar items and you can generally save about 25% by taking the time to shop around.
5) Get discounted show tickets at TKTS. Check out the TKTS booth for discounts of up to 50% on tickets to Broadway and off-Broadway productions. Don't let the long line fool you – it actually moves quite fast. (Or, skip the line altogether at the South Street Seaport TKTS location.)
Plan your visit now! See our exclusive hotel packages for your stay near Times Square.